Click on it to enlarge
Set in 3 hectares (7.5 acres) of vines producing vintage rosé, white and red Côtes de Provence wines you will certainly have the opportunity of tasting, you will discover this beautiful estate… The Bastide de la Mourignette.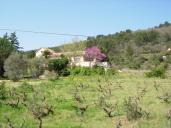 The "Bastide"
Situated at the very end of an alley of olive trees, hidden behind the trees that surround it, the "bastide" (Provençal-style estate) is spacious, with thick walls protecting us against the heat.
It offers a shaded terrace, enhanced by basins with fountains and cascading flowers. In summer, the gentle splashing of the water mingles with the song of cicadas... all the ingredients for a perfect siesta... a tradition which must not be taken lightly in Provence... Either you take it properly or you abstain.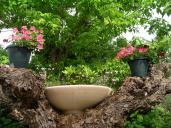 Let's have a closer look…
On the ground floor you will get to the reception lounge and the dining room. The lounge sofa welcomes you, as well as a bookcase and an ancient fireplace… in winter, when you are chilled with cold, it's the visitor's best friend. Proceed along the corridor, past the Provençal kitchen to reach the dining room. It's a large room with apparent stones and a timbered ceiling with exposed beams. The fireplace (yes, another one …) faces a nice glazed rotunda. It is in this convivial room that you will have breakfast or dinner, unless you prefer to have them on the terrace…which is more pleasant as soon as the beautiful days arrive.
The signpost at the entrance of the alley of olive-trees will enable you to find us easily.
New :
* Free wi-fi internet access
* ping-pong table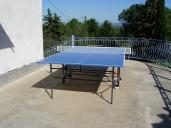 Image