Tamaris
This bedroom is on the first floor.  It is self-contained and accessible by the balcony running across the front of the house with two terraces-solariums on either side.
Its door opens just above the garden. We decorated it with colors of its totem-plant, the tamarix : white and pale pink.
This bedroom is very bright and quiet. It is wide enough to install an extra bed for a 3rd person.
The floor completely renovated last year is now covered with cork to bring a soft atmosphere.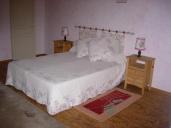 18 m2 in area, just as comfortable and pleasant as the other three, like the "Mimosa" bedroom, it offers a very large bathroom with a window overlooking the garden at the back of the house and of course separate toilets.
Its bathroom is very nice, as you can see on the photos underneath.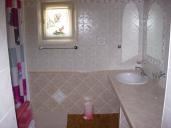 The Tamaris room benefits from a very large terrace with a roof and table and chairs. Thanks to a dedicated lighting tou can enjoy this terrace till late in the evening.
It also has a sunny terrace with a nice view (overlooking the Maures mountain and vineyards)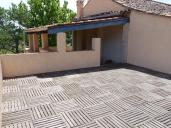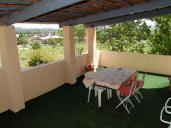 Image